DIY with Associate Liliana
Quarantine and lockdown. These two words have changed everyone's lives over the past few months and I'm sure just reading these terms evokes feelings of stress, fear and frustration.


However, when times become challenging we need to find new ways to adapt and deal with our current reality. As one of my idols, Martha Stewart said, "So the pie isn't perfect? Cut it into wedges. Stay in control, and never panic." I look at this advice as some of the wisest words ever spoken about pie and took the message it provided to heart. The times may not be ideal, but what is ideal is the abundance of time we now have. We have time to read books we've been meaning to get to, time to finally catch up on a favourite show, time to spend with family (maybe a bit too much time), and of course, time to hone in on our skills and talents and acquire new ones.


My time in quarantine has been spent rummaging around my house trying to find projects to keep me busy. I've discovered a love for turning items that are less than desirable into new creations that I adore and that make me happy. I decided I would not panic, I would keep calm and DIY on.
The Side Table
So I started with one particularly hideous pie known as the ugly and damaged side table that lurked in one of the corners of my basement. I wanted this table to fit in with my nautical themed family room which has a light and bright feel to it. Although the colours of this table did not match my existing furniture, I could see that with a minor adjustment I could make this table work. So I grabbed a paintbrush and some white Behr paint, put on some AC/DC and got to painting.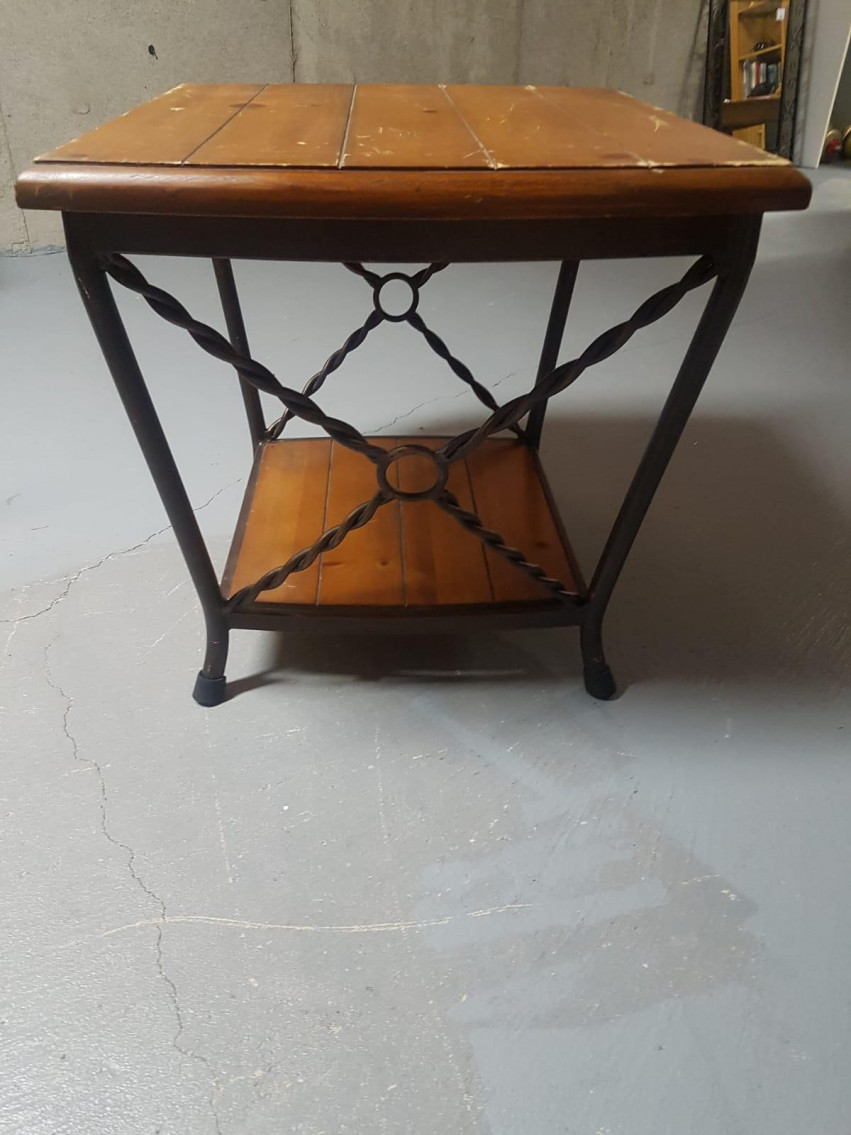 The Result
I'm not sure if Martha would approve of my music choice but I'm sure she would be impressed with how the table turned out. Such a simple change has made the world of difference and this side table is now proudly displayed in my family room, it is an ugly duckling no more.
Now that I have checked the table off my list, I didn't have to search too hard to find my next project, my couch.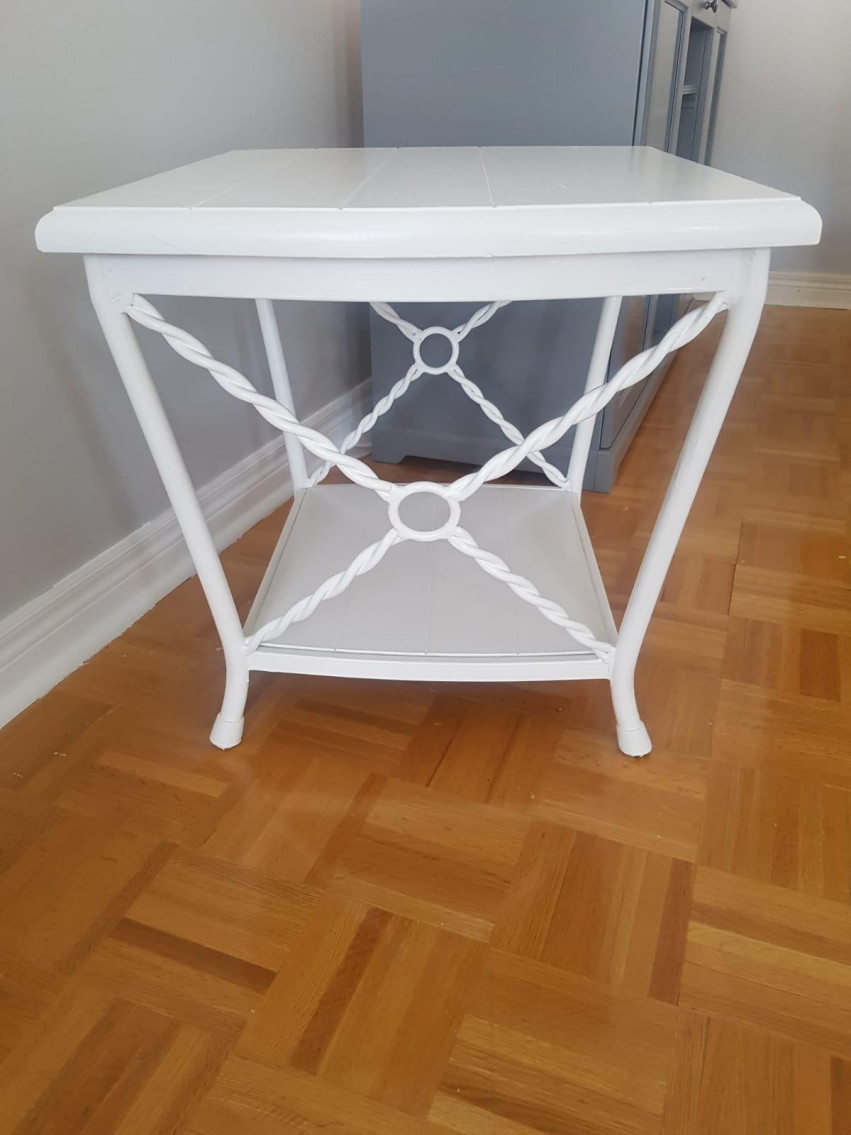 The Couch
This is the furniture piece that is supposed to provide comfort, a happy space where you can sit with your family and enjoy a movie, a relaxing place where you can curl up to read a book, but alas, I did not feel any of these warm and fuzzy feelings when I gazed upon the disastrous patterned cushions. You see, I have big dreams and plans for my living room. I want shades of light sage green and pale pink to drape that room, yet this dream could never be possible as long as the nightmarish couch monster remained the same. So instead of spending a thousand dollars on a new couch, I decided to let my inner granny free and ventured into one of my favourite stores, Fabricland. There I was able to choose two fabrics that matched the vision I had for that room. This is probably one of the best ways in my opinion to make a room look more expensive and give it a more custom feel as you can use this material in numerous ways, curtain ties perhaps? Not to mention you will now be the owner of a unique couch that no one has except for you.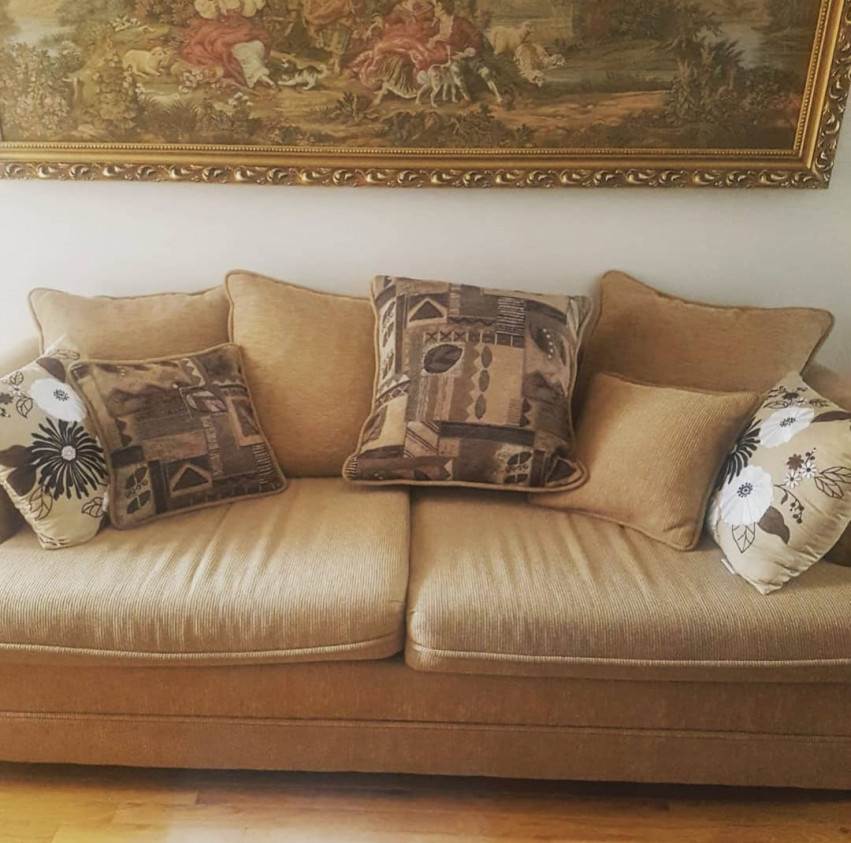 The Result
I took this fabric, and I sewed it onto the pillows, using the existing piping to ensure it had a polished look. I hand sewed all of them. Every. Single. Pillow. Did it take a long time, yes. Was it worth it? Yes. For me this was time extremely well spent, it saved me money and the painful experience of trying to dodge the furniture salespeople at Leons. All jokes aside, I highly recommend this DIY and I think you will love the result.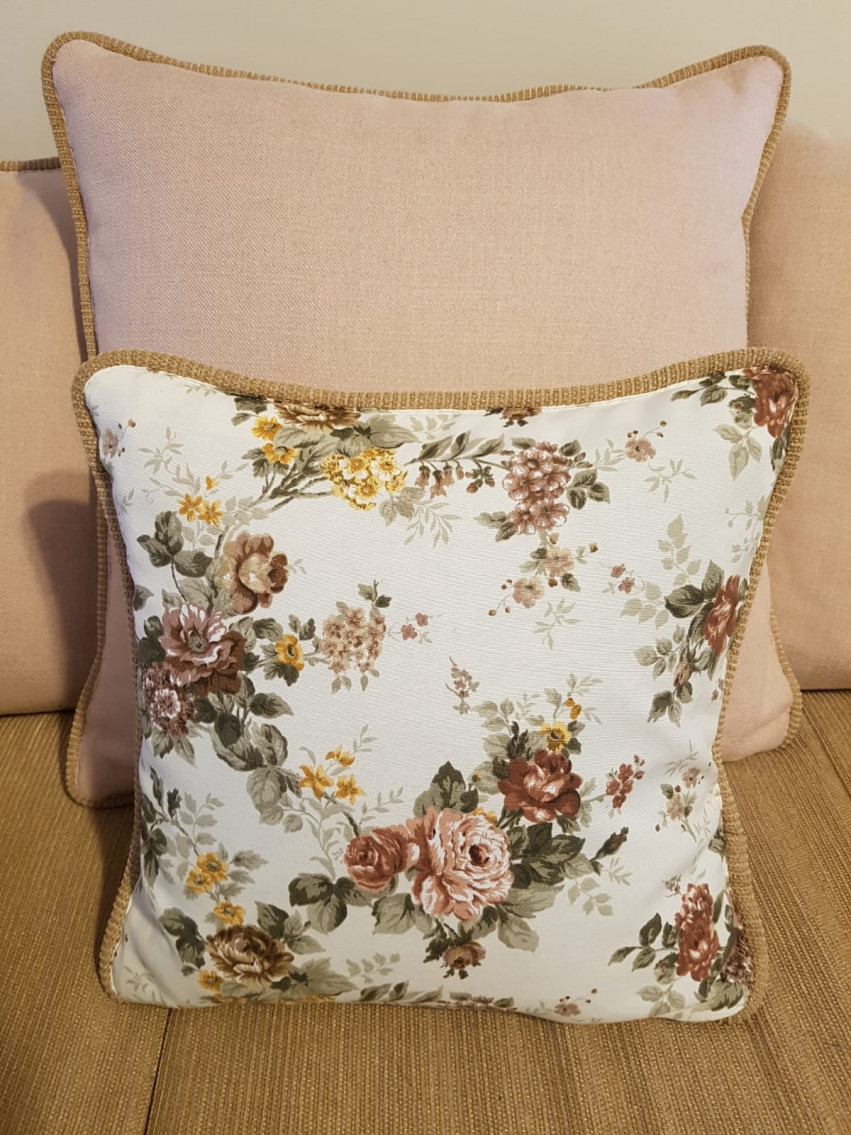 The Backsplash
My third and final project was my kitchen backsplash. Again, instead of spending over a thousand dollars and making a rather large mess, I decided that I could change my backsplash without changing my backsplash. Huh? Confused? Don't be, the answer is simple: paint. The answer is always paint. I went to my local Benjamin Moore store and explained my project, they told me which paint I needed and once I had my supplies I was ready to start renovating. I painted the ugly taupe tiles a crisp bright white and after 3 coats, my kitchen had a new look.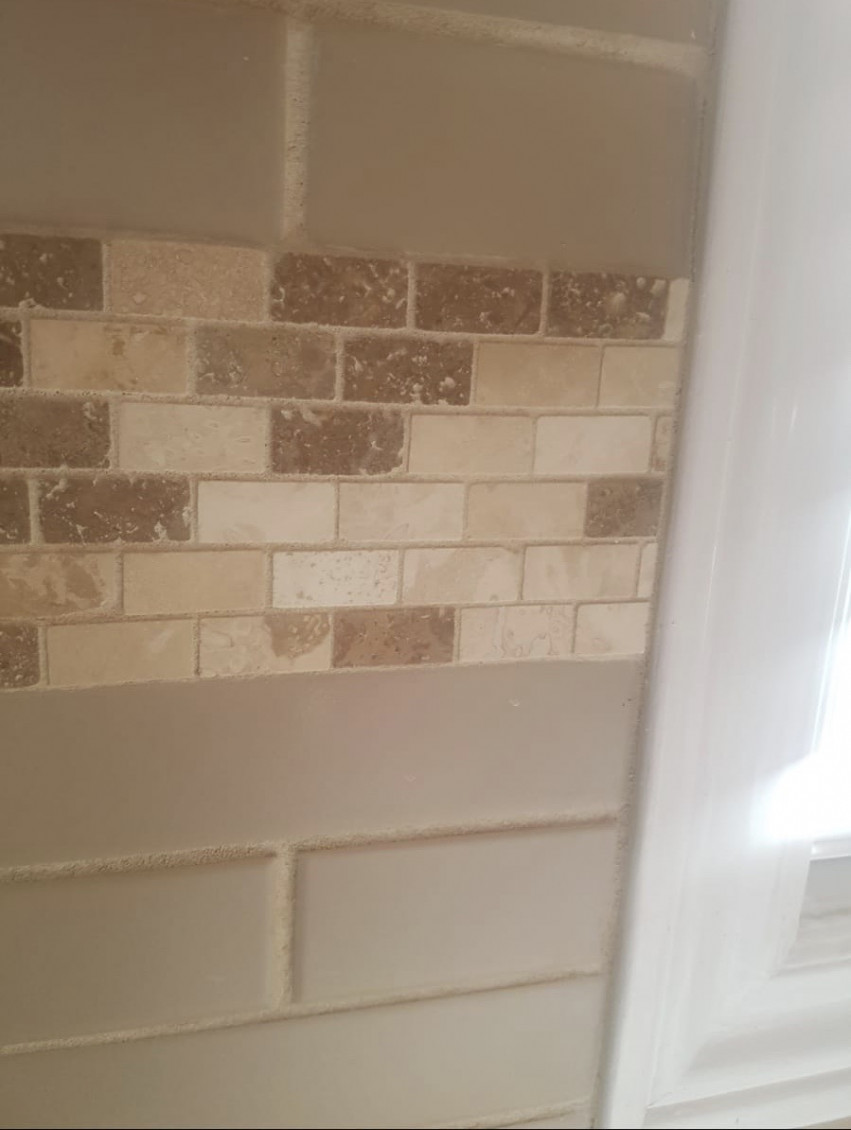 The Result
Yet, I didn't stop there. I decided to test my psychological endurance and went on to hand paint the tiny decorative tiles two shades of grey to match the floor tiles and the freshly painted grey walls. This again took lots of time and not to mention patience, yet after only a few near mental breakdowns, the project was complete. It looks amazing, trust me. It was worth every frustrating moment and it truly showed me that when something is difficult, you just need to push through and think about the end result. Much like the situation we are currently in.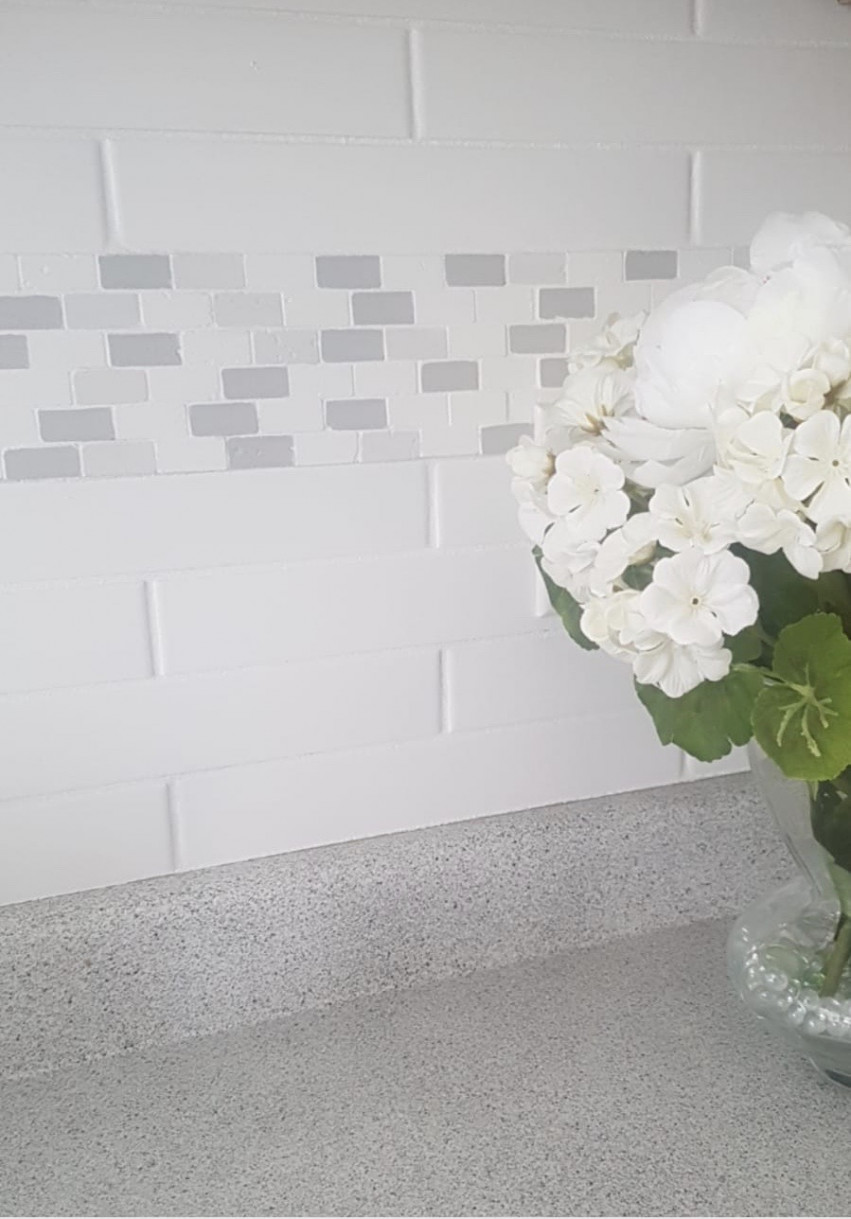 To end this blog, I would just like to mention that I hope you found some inspiration from my DIY's and maybe you can redecorate or repurpose something in your home to give it a fresh new feel. I hope you are all safe and well and remember, you can always fix an imperfect pie.
By Liliana De Benedictis